Press Release
Lucy Security focuses on mobile applications
Focus of the new version of the Lucy Cybersecurity Awareness Platform 4.7.8 is on mobility: the phishing button can be used on smartphones and users can react faster to possible phishing emails
Zug/Switzerland, 27th of January 2021 – Swiss company Lucy Security, one of the largest providers of IT security awareness training with over 11,000 installations worldwide and over 22 million trained users, presents its latest version of the Lucy Cybersecurity Awareness Platform. In the new version, the phishing alert button has been further developed: the button for Office 365 can now also be used on the smartphone for Android and iOS. The Lucy Security Platform 4.7.8 is now available for download.
New features at a glance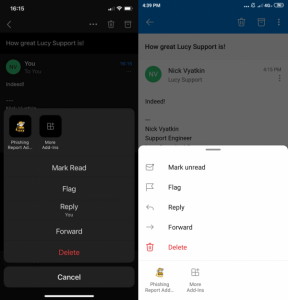 For the first time, the new version of the LUCY platform allows users to use the phishing alert button in the Office 365 version for smartphones on both the Android and iOS platforms. A new installation of the plug-in is required. All further information on the plug-in can be found here.
Furthermore, version 4.7.8 offers a new SMTP OAuth2 authentication mechanism: the OAuth2 protocol for SMTP servers makes Office 365 even more secure. Support for Gmail will follow in the next few months. It is also now possible to configure single sign-on for Lucy users using Azure AD OAuth2 authentication.
The Lucy Security Platform
Lucy Security provides companies with a standard software platform to test employees by means of attack simulations. They can also use malware simulations to test the company-wide infrastructure and hundreds of training templates to train employees on information security issues. The results of the various tests can be continuously checked with the software platform and finally enriched with reporting functions. This motivates employees to develop a comprehensive understanding of security and to implement it confidently. You can find the complete function overview here.
Price and availability
The new version of Lucy Security Cybersecurity Awareness Platform 4.7.8 is available via this download: https://lucysecurity.com/download/. All commercial editions of Lucy Security are listed in this price list.
About Lucy Security
Founded in 2015, Lucy has transformed the ethical hacking experience of its founders into comprehensive training software that provides a 360° view of an organization's IT security vulnerabilities. Lucy continues to receive numerous industry awards, including the ISPG Award 2020 for Best Cyber Security Education and Training and the Cybersecurity Excellence Awards 2020 for Best Anti-Phishing and Best Security Education Platform. The company is headquartered in Zug, Switzerland, with a U.S. office in Austin, TX. Further information can be found at www.lucysecurity.com