Your E-Learning Platform for Cyber Attack Training
Lucy in a nutshell: How to download, run & update lucy?
LUCY MODULES: TEST EMPLOYEES
Would your employees react correctly to hacker attacks?
With a variety of predefined, multilingual attack simulations (phishing, malware, smishing, USB attacks, etc.) you can test whether your employees are really familiar with the dangers of the Internet. LUCY provides a "safe learning environment" where employees can experience what real attacks would feel like. LUCY enables you to simulate the full threat landscape that goes beyond just simple phishing emails:
Ransomware simulations;
Portable Media Attacks (USB, CD, etc.);
Malware Simulations (Office macros, Java, etc.);
File-Based Attacks (PDF, Audio, etc.);
Spoofing Attacks (Website Cloner, SMS & Mail spoofing)
…and many more
LUCY MODULES: TRAIN EMPLOYEES
Close knowledge gaps with Lucy's E-Learning
LUCY offers more than 300 interactive, web-based Training Modules (videos, tests, quizzes, games, etc.) on various security topics that can be provided to employees based on the results of the attack simulations or independently of them. Employees can manage their own learning content in the LUCY LMS while your IT Administrator tracks their learning progress in real time. An integrated authoring tool allows you to quickly create new learning content, and Lucy can create custom content for you, as well.
300+ WBT training modules
Role- and reputation-based training
End user training portal access
E-Learning education diploma
Measure training success
E-Learning content authoring toolkit
Static training library
Offsite support
Video customization options
Training content SCORM import/export
…and many more
LUCY MODULES: ENGAGE EMPLOYEES
Turn your employees into human firewalls
The LUCY Mail Plugin for Gmail, Outlook & Office365 actively integrates your employees into the detection of and fight against cyber attacks. Suspicious e-mails can be reported with just one click and removed from the Inbox. In the LUCY environment the e-mails are then analyzed and evaluated. Automatic feedback gives the user the risk score. If the suspect e-mail is a real attack, it can be reported to the responsible provider with the Threat Mitigator.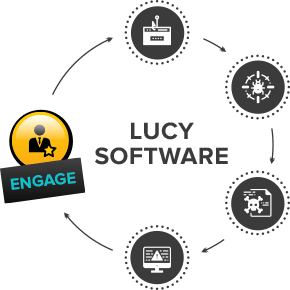 Report Emails with a single click
Deep inspection request
Automatic Incident Analysis
Incident Auto Feedback
Threat Mitigation
Custom rule-based analysis
Plugin customisation options
Third party integration
Identify attacks with common patterns
Incident user reputation profiles
…and many more
LUCY MODULES: 
TEST YOUR INFRASTRUCTURE
With the use of phishing simulation you now know that X% of your employees downloaded and executed an unknown file. But from a technical point of view, what kind of dangerous file types can get to the employee and how big is the risk if such a file is actually executed?
The E-mail and Internet malware protection test gives you an insight into how your mail server and web proxy handle different variations of test files. This allows you to see whether potential malicious code, such as Java files, backdoors, scripts, embedded Office Objects, etc., is detected and blocked by the filter infrastructure. Based on these results, you can then carry out targeted phishing campaigns.
To reduce the risk from malware in your environment, you need safe and effective ways to test your systems. This is where LUCY's Malware Simulation Toolkit (LHFC) comes into play. LHFC is an advanced malware simulation suite capable of emulating various threat scenarios equivalent to many of the tools that hackers employ. The local Windows test (LHFC) will let you know if your defenses work in case an employee executes a malicious file.
Does your AV detect known Malware downloads?
Is your SIEM able to trigger activities from this tool?
Is Malware able to modify System Settings?
Is Malware able to communicate to external servers?
Can Malware access sensitive data on the local host or your intranet?
What type of file types can be sent as attachments to the end user?
What type of file types can be downloaded from a website by the user?
Does your internet and mail protection software detect potential malware?
Does your internet and mail protection software detect masked malware?
…and many more
LUCY MODULES:
MEASURE PROGRESS
Monitor attack statistics and eLearning progress in real-time! Track all attack simulation statistics like the number of emails that were opened, how many links were clicked, and how many attacks were successful. Measure your eLearning progress with training stats and quiz results. You can then easily export your data as CSV, API, PDF, HTML, or DOCX.
Export Features
Bounce and Out-of-Office Reporting
Landing Page Time Tracking
Comprehensive Reporting
Comparison
Benchmark
Realtime Dashboard
Business Intelligence
Advanced Video tracking
Multi-tenant view-only access
Advanced Quiz tracking
Support for anonymization and data protection
MORE GENERIC LUCY FEATURES
Interested
in our
Services?
Interested
in our
software?